Presentation and introduction to the topic of antarctic ice-mass balances and the improvement of its estimate for the past 5 years. For further reading please see: Sasgen, I.; Konrad, H.; Ivins, E.R.; van den Broeke; M.R.; Bamber, J.L.; Martinec, Z.; Klemann, V.: Antarctic ice-mass balance 2002 to 2011: regional re-analysis of GRACE satellite gravimetry measurements with improved estimate of glacial-isostatic adjustment, The Cryosphere Discuss., 6, 3703-3732, doi:10.5194/tcd-6-3703-2012, 2012. http://www.esa.int/Our_Activities/Observing_the_Earth/Space_for_our_climate/Clearest_evidence_yet_of_polar_ice_losses Antarctic ice-mass balance 2002 to 2011 from Sasgen et al. Table of Contents The author of the study Glacial Isostatic Adjustment (GIA) and its concept Limitation for GIA modeling Setup and techniques of Sasgen Statistical Approach for GIA modeling and ice-mass estimation using GRACE and GPS data GIA estimation errors and their influence on the estimate Final results for different calculation models Keyfacts out of the study Graphical representation and comparison with past studies Briefly introduction to current ESA/NASA study published recently in Science Major compliance for aquired satellite data of the past 20 years GRACE gravity measurement explanation Input-Output method and its key...
Mehr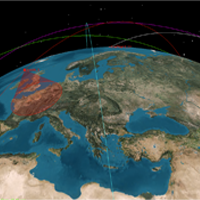 Content: Earth observation satellites have emerged as the preeminent tool for consistent and high-resolution imagery. The eyeON mission is designed to provide rapid on-demand sub three meter resolution imagery as well as generate a database of regions of interest. In the following document, the eyeON team proposes a multi-use satellite observation system capable of servicing many constituents in different areas of study. Call for Proposals The German Aerospace Center (DLR) plans to launch a high resolution optical system (2-10 m resolution) with the emphasis of multi-temporal capabilities. The focus shall be on a rapid return time and the possibility to acquire images on a daily basis. The satellite image data will be offered to research, national agencies as well as to private customers. Customers in the field of agriculture, insurance and disaster management will be provided with tailored thematic products, which in time-critical situations can be delivered within 1-4 days. DLR is searching for a private company, willing to be the private partner and investor of the mission. The company should have the technical know-how and capability to design such a mission. This is a call for proposals for mission analysis and design upon which DLR will decide on the award of a contract. Mission Requirements: The constellation of the satellites should ensure the capability of global coverage within one day. The main payload should consist of a multi-spectral camera with the high geometric resolution (2-10 m). Users shall be provided with adequate image data including thematic maps. The distribution of the data shall go through the internet and user portals. The satellites shall be small and cost-effective. Task Your task is, to work out a proposal for a satellite mission following the above requirements. The mission proposal of your group is to be presented and defended in a final presentation. Your group shall compete with the other groups for the awarding of the contract. Your proposal shall also be handed in as a written document. Your proposal should contain the following items: Scientific objectives: Your proposal shall state that your satellite mission meets the user requirements. Give the relevance to the mission. What are the commercial and scientific objectives that such a mission should meet? Are there any complementary missions? Mission design: A key point is the selection of the payload. Which spectral bands are necessary for your mission? What is the spatial, radiometric and temporal distribution? Select adequate instruments and describe typical sensor concepts, specific properties and pros and cons of different sensor types. Discuss and justify your final selection criteria. Select adequate orbital parameters for the satellite constellation. How many satellites will be used? Consider a possible repeat cycle (yes/no?), the ground track pattern, sampling and ground resolution. Visualize the selected configuration. Also care about a reasonable mission life time. Find a suitable design for the spacecraft. Which platform will be used? Final Presentation As a result of the group work we came up with the following final presentation: ESPACE Satellite Mission Project Mission Objectives Top Level Requirements Applications Satellite Constellation Satellite Constellation Groundtracks for 24h Satellite Constellation over Germany Satellite Constellation Coverage Launcher Selection Satellite Constellation Ground Segment Satellite Constellation Visibility Time Ground Segment Communication Ground Segment Architecture Satellie Bus Design Sensor System Pushbroom Scanner Power System Power Budget Thermal Control System Structural Architecture Attitude Determination Control Product Delivery Chain Final Products Mission Costs Final Report Executive Summary Earth observation satellites have emerged as the preeminent tool for consistent and high-resolution imagery. The eyeON mission is designed to provide rapid on-demand sub three meter resolution imagery as well as generate...
Mehr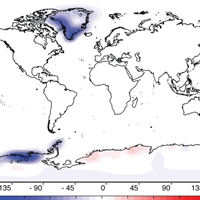 Content: In the context of a presentation for the ESPACE program at TUM, the GRACE mission and its measurement technique, as well as its use for the geoscientific community for melting land ice oberservations is presented and discussed. For this purpose several studies have been analysed and summarized. Presentation GRACE gravity field observations of melting land ice Outlook GRACE mission GRACE spacecraft Gravity measurement principle From measurement to model Spherical harmonics model Assumptions and properties of GRACE data Computational effort GRACE gravity models over time Gravity models and its applications Melting land ice with contributions from worldwide glaciers Melting land ice with contributions from Greenland/Antarctica Animation showing melting land ice worldwide Melting land ice in Antarctica study Melting land ice in Greenland study Future missions References used for the presentation Predicted lifetime of GRACE GRACE Level 2 data explanation Post-glacial rebound explanation Sea-Level Change explanation Methods for equivialent water height determination GRACE mass estimate explanation from...
Mehr